Follow these hand charts and learn how to play your starting hands at Texas Holdem. The charts below will give you a great starting point on how to play your starting hands. For all of you beginners, we recommend consulting these charts will playing online.
We provide 4 separate charts depending on where you are seated relative to the dealer. You can find out how to play the Blinds, Early Position, Middle Position, and Late Position.
After the flop, you can consult the Drawing Odds Chart at the bottom, but you will also have to develop your reads, pot odds and other skills to develop your post-flop strategies.
Small Blind & Big Blind Hand Chart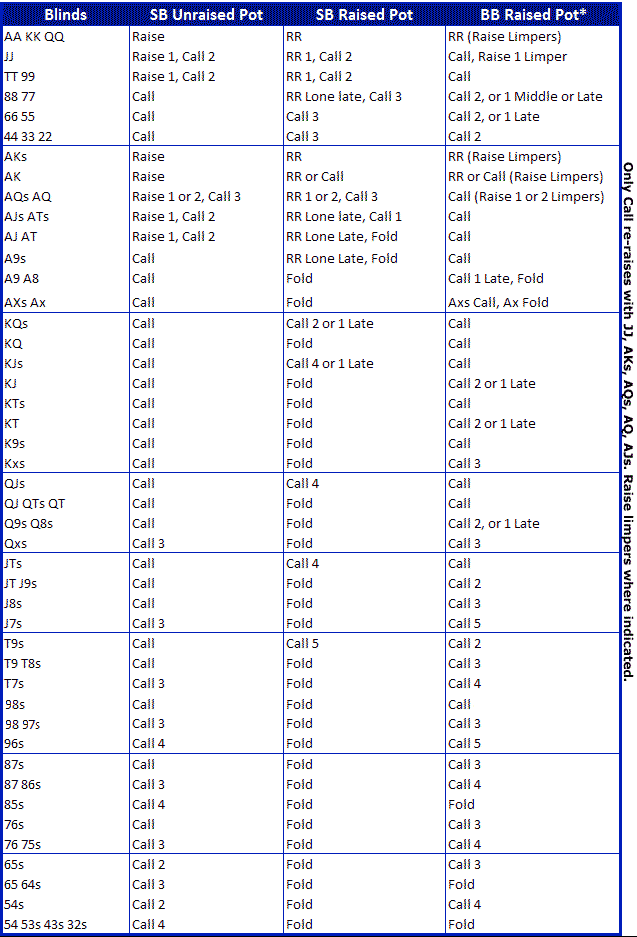 Early Position Hand Chart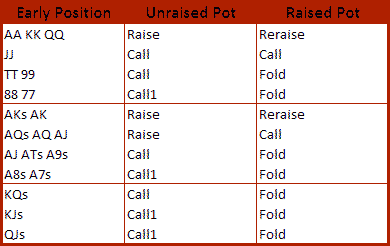 Middle Position Hand Chart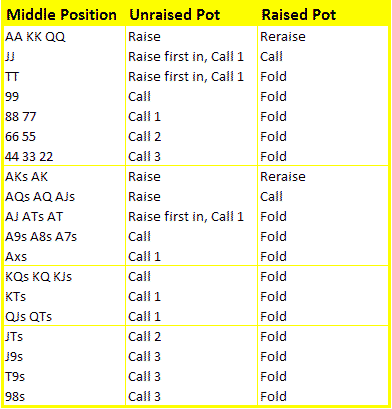 Late Position Hand Chart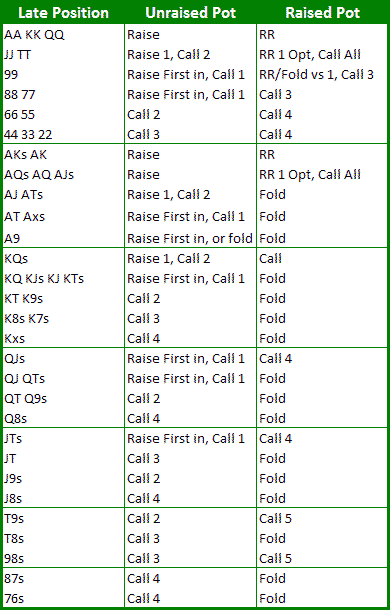 Drawing Odds Chart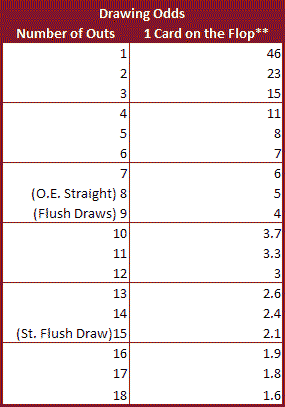 How to Read the Starting Hand Charts
Let's look at some examples of how to use these poker odds charts…
Early Position

88 77
A8s A7s
Unraised Pot

Call 1
Call 1
Raised Pot

Fold
Fold
* In early position, only call with A8s or 77 if there is already at least one caller in the pot. Fold if you are first in or if the pot has been raised.
Middle Position

98s
Unraised Pot

Call 3
Raised Pot

Fold
* In middle position, only call only play 98s if there are already three or more callers. Do not call raises.
Late Position

JJ TT
99
Unraised Pot

Raise 1, Call 2
Raise First In, Call 1
Raised Pot

RR 1 Option, Call All
RR or Fold against 1 Player, Call 3
* In late position, you should raise with JJ against one caller or first in, and call against two callers or more. You have the option of rerasing a lone raiser; otherwise, always call a raise.
* Raise 99 when you are first in from late position; otherwise, call if the pot has not been raised. If the pot has been raised, you should either re-raise or fold when against a single player, or call if there are three players in the hand.
Blinds

AQs AQ
A9s
KJ
SB Unraised Pot

Raise 1 or 2, Call 3
Call
Call
SB Raised Pot

RR 1 or 2, Call 3
RR Lone Late, Fold
Fold
BB Raised Pot

Call (raise 1 or 2 limpers)
Call
Call 2, or 1 Late

* In the small blind, you can raise or reraise one or two opponents with AQ, otherwise, call against three or more opponents.
* In the small blind, always call A9s against limpers. If the pot has been raised, you should reraise a late position player. You should fold if the raiser is in early or middle position or against two or more opponents.
* In the big blind, you can call with KJ against two opponents or a lone late player. Fold against a lone player from early or middle position.
With a little practice, you should be able to find the appropriate poker strategy very quickly. I recommend keeping these charts open to provide guidance as you play. May the odds be with you! –
Matthew Hilger


Last updated: April 7, 2014 at 0:55 am