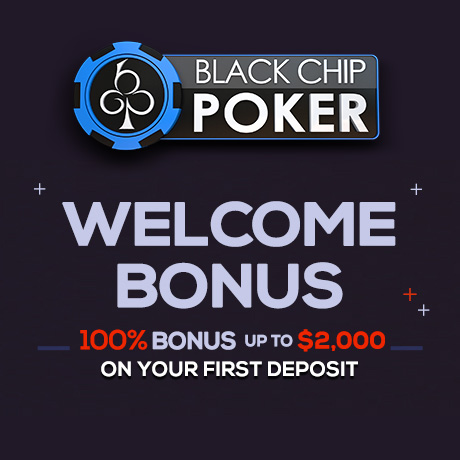 Black Chip Poker Referral Code WELCOME100
Get a 100% match welcome bonus when you sign-up for an account and register with our Black Chip Poker referral code WELCOME100. With this promotion you will receive a 100% match bonus on your initial deposit into your account, up to $2000. Take advantage of this bonus offer offer to increase your bankroll at one of the best poker rooms!
Black Chip Poker Referral Code
Black Chip Poker Referral Code for up to a $2,000 Welcome Bonus
BlackChip Poker, part of the WPN Network like ACR, is one of the more established poker rooms on the internet. Just like other WPN poker rooms, you will be able to place wagers on your favorite poker games and tournaments.
As a reward for creating a new account, Black Chip Poker is boosting new players account with a 100% Match Bonus, up to $2000. All you need to do is use this BlackChipPoker referral code WELCOME100 and deposit at least $25 into your account.
Even if you claimed a similar Welcome Bonus on another WPN Poker Room, such as ACR Poker, you can still claim this offer as long as you are a new BlackChipPoker player making your first deposit.
To learn more about the details on the 100% Welcome Bonus, read the next section on how to download the Black Chip Poker software, create an account and then make your first deposit.
Download the Black Chip Poker Software
Download Poker Software
To create your account, you will need to do so through the BlackChipPoker software. To begin, first go to the BlackChipPoker website to download the application and install the software on your computer.
Once you are at the Black Chip Poker website, look for the blue Download Now button on the top menu bar.
Currently, Black Chip Poker can be ran on Microsoft and MacOS computers. Choose which operating system you plan to run the poker software on to begin the downloading.
Install the Software Client
Once the downloading of the software is complete, go to your Download folder and find the executable file.
To start the installation of the Black Chip Poker software, click on the executable file and select where you want to install your software.
Here is what the prompt will show on a device running Windows.
Begin Installation
Once the dialog popup shows an Install button, click on this to start the installation of the Black Chip Poker software.
You should now see the green progress bar to show you how far along you are in the installation process.
Launch the Software
After the BlackChipPoker installation is complete, you can choose to launch the software now.
You will need to check the "Launch BlackChipPoker" checkbox.
When you press the Finish button the software will launch and allow you to create your Black Chip Poker account.
New Account Registration
When you are at the home screen for the BlackPokerChip website, you will see a log-in form on the right side.
To create your account, click on the "Sign Me Up" link below the log-in form and this will take you to the registration form.
Registration Form 01 – User Email
In the first of four steps, during your account sign-up, you will need to enter an email address that you can access. Make sure to use a valid email address that BlackChipPoker can use to send your verification email.
This email will be your identification used when you log into to the Black Chip Poker software each time.
Your email will not be displayed to other players at the WPN poker tables.
Registration Form 02 – Nickname & Referral Code
Here you will a create a Nickname for the poker table, this will be the handle name other players at the poker table see you as.
The nickname you create will have to be unique across all WPN poker rooms. So the username you use at another WPN poker room, like ACR, cannot be re-used. This will not prevent you from claiming the 100% Welcome Bonus as long as you are a new player at Black Chip Poker.
To activate our recommended 100% Welcome Bonus, enter WELCOME100 in the Referral Code. Then when you make your first deposit, you will receive up to $2000 in a 100% deposit match bonus.
Registration Form 03 – Validation Code
BlackChipPoker will then send you a verification code to the email you entered on the first step.
You should receive their verification email shortly after creating your Nickname. Make sure to double check your Spam folder if you do not see it within a couple of minutes.
Go to your email and copy this code to verify your email. Then on the validation form, enter code in the entry field Validation Code and press the Next button.
Registration Form 04 – Password & Terms
For the last step, you will need to enter a secure password and also re-confirm the password.
Choose a password that cannot be easily guessed. We recommend you use a secure password app that can generate random passwords and also store them for you.
Before submitting the form, we recommend you read the Terms before creating your account.
Your account will be created after pressing the Next button.
Add Your Personal Information
Personal Info
Your actual personal information will be required to make deposits and also withdraw your winnings.
Once your account is created, you will automatically be directed to the Personal Information screen. If you choose to enter your information later, you can do so by going to the My Account link on the top menu bar.
BlackChipPoker will need to verify your identity, so make you use your legal information as it appears on your identification card, utility bills and billing statements. Once your information is verified, you will be allowed to play for real money.
First Name
Last Name
Birthdate
Gender/Identify As
Mobile Phone
Country
State
City
Zip
Address
My Details
To view the personal information you entered, you can do so at the My Details in the main menu bar.
You can view your account balance and available rebates from this section.
This section will also show your current Elite standing. To learn more about this VIP program, check the bottom of the review.
$2,000 Bonus on Your First Deposit
When you redeem the BlackChip Poker referral code WELCOME100 during registration, you will automatically qualify to receive a match on your initial deposit, up to $2000.
We will cover how to claim the bonus and how to redeem your winnings in detail below.
$2,000 Welcome Bonus at Black Chip Poker
Initial Deposit Only – 100% Match Bonus
Enter this BlackChipPoker referral code when you create your account, to qualify for the welcome bonus offer.
When you sign-up for a Black Chip Poker account and use our recommended referral code, you will be eligible for this 100% Welcome Bonus.
During your initial deposit you will be asked to enter a promo code, here you should re-use the WELCOME100 code again.
This promotion is good on your first deposit of at least $25, using any funding option of your choice.!
Turn your $25 deposit, into a $50 bankroll at the BlackChipPoker tables.
To convert your bonus money, you will do so at a rate of $1 in bonus released every 27.5 Award Points you earn.
BlackChipPoker gives players 60 days, from the day of activation, to complete the playthrough for this Welcome Bonus.
For more details on how this conversion works, read the Playthrough Requirement section later in this review.
Create an Account and Turn a $25 Deposit into a $50 Bankroll
When you create your BlackChipPoker account, you can claim this 100% Welcome bonus when you enter the code WELCOME100 during the registration process. It is important you enter this code during your account creation, to make sure you do not forget, as it may be able to claimed after you make your first deposit.
With this promotion, you can double your bankroll, up to $2000. But even with a deposit of just $25, the minimum requirement, you will receive a $50 bankroll. Take advantage of this beefed up bankroll, to increase your chances of winning even more. This is only valid on your first deposit, so if you're an expert at claiming welcome bonus, you will most likely lean towards getting the maxing match bonus possible at $2000 with a $1000 initial deposit.
Achievement Rewards
As part of the Elite Program, players will receive Achievement Rewards automatically as they reach milestones based on their total Battle Points.
As an example, the first milestone is 750 BP, which will give a $10 cash reward for reaching this Achievement Rewards milestone. For the full list of milestones, check out the image below.
To redeem an Achievement Reward or see your current status on when you can claim your next Achievement reward, head to the Rewards section. Next go the Elite Benefits and look for the Achievements section. If you want to claim your reward, click the Redeem button.
Playthrough Requirement to Release Your Poker Bonus
The 100% Welcome Bonus will be given to you as a credit into your Bonus Balance. This means you cannot instantly cash out the bonus, which is common at online poker rooms, and you will need to convert this Bonus Balance into your Available Balance. Once the bonus money has been converted, you can withdraw the money or use it to enter real money poker games, both cash games and tournaments.
Now onto how you can release any poker bonus into your withdrawable balance. As an example, for the 100% Welcome Bonus, the bonus is released to you in $1 increments for every 27.5 in Award Points. (Award Points is the same as Combat Points). For new players, they earn Award Points at a rate 5.5 for every $1 they spend in real money on tournament fess or rake contribution. Just to note, as you move up levels in the Elite Program, you earn more Award Points for every $1 spent.
If you were to spend $10 in tournaments, you would earn 55 Award Points. Or if you choose to play cash games and contribute $20 to the rake, you would earn 110 Award Points. Now we will apply this knowledge to the 100% Welcome Bonus example.
If you were to make a deposit of $25 and receive a $25 bonus, this means you would to earn 687.5 Award Points. You get this by multiplying $25 bonus x 27.5 AP playthrough. To earn 687.5 Award Point, you would need to spend $125 in rake or tournament fees. This is amount it would take to complete your playthrough for receiving a $25 bonus, in this example.
Daily Freerolls, up to $50
BlackChipPoker has increased the amount of daily freeroll poker tournaments. Currently there are 8 tournaments a day every 3 hours, Monday through Sunday. Each tournament is first come first served and most have a 30-min late registration.
To find the Freerolls Schedule, go to the Promotios tab and look for Freerolls.
If you want to find current Freeroll tournaments for the day, go to the Tournaments tab, then sort the "Buy-in" by "Ascending'. You will see titles that say "$50 GT- Freeroll 8-Max PLO" or very similar wording.
If you have spare time, we recommend you take advantage of these tournaments.
Play Poker at Black Chip Poker Today!
Player Reviews
Leave your feedback for playing Poker at BlackChipPoker!
BlackChipPoker 100% Welcome Bonus
Average rating:
1 reviews
Oct 3, 2023
Another Bonus!
I did not know you could open an account at BlackChip Poker after already having one at ACR Poker, so this is really cool cuz I can get another welcome bonus! Thanks for the heads up!