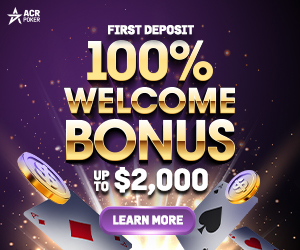 ACR Poker Welcome Bonus
Download ACR Poker and register your new account with ACR referral code WELCOME100 to get up to a $2,000 welcome bonus!
Americas Cardroom / ACR Poker Download
Download ACR Poker and Get Your Welcome Bonus of up to $2,000
If you want to get into online poker, we recommend checking out ACR Poker. Get the free ACR Poker download and gain access to the largest US online poker site!
Once you download the software, you will need to register a new ACR Poker account. Enter the ACR Poker referral code WELCOME100 during the registration process and you will qualify for the 100% Match Bonus up to $2,000
To learn more about the Welcome Bonus, check out our ACR Poker referral code page.
SetupACR.exe – the new ACR poker software has a redesigned interface, providing a more navigable and user-friendly experience. The ACR Poker download has a separate Cash Games lobby, Blitz lobby, Tournaments lobby, Sit & Go Lobby, and new wait list, streaming and staking features. The software also offers a fully featured online casino and sports betting area.
Sign-up Bonus on Initial Deposit
Enter this referral code when registering your new account and qualify for up to a $2,000 welcome bonus.
The Poker Games at Americas Cardroom
The downloadable ACR poker client is available for PC/Windows and Mac. There's also an Android app that is available.
These poker clients offer the full range of poker games available. Other platforms, like Apple/iOS, are limited to the browser-based instant play games, which is very limited unfortuantely.
Available Poker Games
The ACR Poker download offers a wide variety of multiplayer real money poker games. In the CASH GAMES lobby, you can find Hold'em, Omaha, 5 Card Omaha, 7 Stud, and 7 Stud Hi/Lo. The 7 Stud games have very little if any action tho.
ACR also offers something called Blitz Poker games – in both Hold'em and Omaha variants. Blitz Poker sits you at a random table and deals you a hand. If you fold the hand, you are then teleported to a different random table and dealt another hand. The speed and excitement is furious! You will not be bored playing this version of poker.
In the Tournaments lobby, you can find all the available tournaments going on. You can find big, multi-day tournaments with guaranteed prize pools as well as smaller tournaments. Be sure to read the details of the tournament you are interested in because there are a lot options, such as unlimited re-entries, late registrations, turbo or regular, deal making availability, etc.
The JACKPOTS lobby provides Jackpot Poker games, which are hyper-turbo Sit & Go tournaments at 3-max player tables!
The SIT & GO lobby offer both Hold'em but also Pot Limit Omaha and PLO Hi/Lo SnG's.
Hold'Em
ACR offers both Limit Holdem and No Limit Holdem games, with stakes ranging from $0.01-$0.02 blinds up to $5,000/$10,000 blinds (but I've never seen anyone playing these tables!). $100/$200 No Limit Hold'em is the most popular high stakes game at ACR.
Limit Holdem
In Limit Hold'em, or fixed limit Hold'em, your bets or raises (aka the small bet) are on the pre-Flop or Flop must be equal to the big blind. For the "Turn" and "River" bets and raises (aka the big bet), they must be equal to twice the big blind.
No Limit Holdem
For No Limit Hold'em, your bets or raises must be the minimum amount of the big bet to the maximum of all-in. Each re-raise must be atleast the amount of the previous bet.
Omaha & 5 Omaha
Omaha and the variant 5 Omaha are also popular poker games at ACR.
The games of Omaha and Hold'Em are similar in that you are dealt hole cards and there community cards that are dealt face up. Unlike Hold'Em, in Omaha you are dealt 4 hole cards and 3 community cards. Your goal is to get the best hand by choosing exactly 2 of your best hole cards and combining it with the 3 community cards. As a result, you can make better hands than Hold'em due to the amount of hole cards you can choose from. Think of this classic version of Omaha as "Omaha Hi".
Omaha Hi/Lo
Omaha Hi/Lo is the combination of two known Poker games. The first being Omaha, where the highest 5 cards win, and California lowball, where the lowest 5 cards win. In Omaha Hi/Lo the cards are dealt 4 hole cards to each player and 3 community cards. The difference is that the pot is split between the two Highest and Lowest hands.
There are betting variations of Omaha and Omaha Hi/Lo offered at ACR. Pot Limit Omaha (aka PLO) is the most common version where the maximum bet you can make is the size of the pot. But there is also No Limit Omaha and Limit Omaha games available.
5 Omaha
5 Omaha, also known as 5 Card Omaha, is exactly the same as regular Omaha except you are given 5 hole cards instead of 4. Like Omaha, you may then only play 2 of those 5 cards, along with 3 community cards to make your best poker hand. ACR offers 5 Omaha and 5 Omaha Hi/Lo with Pot Limit, No Limit, and Limit betting structures.
Stud & Stud Hi/Lo
7-Card Stud games are also available at ACR Poker, but there seems to be very little action on these games.
Blitz Poker
This variation of Hold'Em Poker is used to increase the pace of standard Poker games. Instead of joining a table, you will join a pool of players. This pool is who you will play against. If you fold you move to a new pool with 5 other players who also folder. The rules will be similar to Hold'Em.
To join a pool, click on the "Register" button on the menu on the right side. This will open up a pop up for the Poker Table.
Tournaments Lobby
Here you can see all the tournaments going on and the upcoming tournaments. There's a lot of information here but you can simplify the massive list of tournaments. There is a section called YOURS – intended to be a short list of tournaments that you're interested in. Click the + sign on the left side of any listing to add this particular tournament to the short list.
Clicking on any tournament entry will bring up more info about it on the right side, where you can view more details about that particular tournament.
Tournaments have a wide variety of options and details, so be sure to fully understand all the ins and outs of any particular tournament before you join! Does the tournament allow unlimited re-entries? This will make the tournament run much longer! Is the speed Normal, Turbo, or Hyper-Turbo? How many chips do you start with? Some of these items will determine how long the tournament runs for, so be sure you have the proper amount of time set aside!
Jackpots
To begin in Jackpots, you will first select from the format "No-Limit Hold'Em" or "Pot-Limit Omaha". Next you will choose the number of entries. After that you will need to Register. You will then be allowed to Take Your Seat for the Jackpot games.
For players looking to automatically join Tourneys, to avoid the waitlists, check out AmericasCardroom's latest tool. There will also be a Maximizer tab where you will be able to adjust the settings, which will be handled automatically, to maximize your time.
Here you will be allowed to pick the game type of "No-Limit Hold'Em" or "Pot-Limit Omaha". You will then get to set your "Maximum buy-in per game", "My favorite buy-in", "Maximum multi-table number" and "Save one space for preferred stake".
Once you set these options, AmericasCardroom will take care of reserving you in the next available Jackpot game that meets your requirements.
Online Casino Gaming at ACR Poker
ACR Poker has an online casino integrated into your account, so you can access the casino from within the ACR Poker software. Click on the CASINO tab and you will see three casino gaming options available – Classic, Slots, and Live Dealer. Make your selection and wait while the casino loads in a new tab in your web browser.
In the CLASSIC casino, you can find a nice variety of table games like Baccarat, Roulette, Blackjack, Video Poker, and other table games. Check out some of the poker-related table games below.

Three Card Poker
With 3 Card Poker, you get the benefit of a fast paced game that keeps the money moving. In this variation of Poker, it your hand versus the dealer's hand. To start the game ante and wagers are placed, then each player is dealt 3 cards and the dealer deals himself three cards. Player have the option to fold or place an a "play" wager that is equal to their ante. After this, cards are revealed and winnings hands will be based on the pay table.
Stud Poker
Stud Poker will be a variation of poker where cards a dealt a mix of face-down and face-up during multiple rounds, where wagers are placed. The format will be similar to the one found in the AmericasCardroom software client. This "Table" will look different but plays and rules will be similar. Check out the pay table to learn the winnings hands.
Let it Ride Poker
Let it Ride is variant of 5 stud poker, with three hole cards that are dealt face-down to all players and then two community cards, also face down. After players look at their cards, they can withdraw 1/3 of their bet before the first community card is revealed. Players will have the chance to withdraw 1/3 of their bet again before the final community card is revealed. Winning hand will be based on the paytable.
Pai Gow Poker
In this variant of poker, a 52-card deck is used with addition of an extra Joker. A table requires six players and a dealer. One of these seven seats will be labeled as the banker, which the other six seats will attempt to beat with the best 5 card hand and a 2 lowest card hand. Use the paytable for guidance on how to rank your hand.
Web Browser Video Poker Games
At the AmericasCardroom subsidiary Casino, there will also be a separate Video Poker section where you can find additional Poker games.
Jokers Wild Choices
In the Video Poker section you will see various options for Jokers Wild. You will have the option to play 25 Lines Jokers Wild, 5 Lines Jokers Wild and basic Jokers Wild. There will also be an HTML5 and non-HTML5 version, choose the one that is compatible with your web browser.
As mentioned there a 3 variations of Jokers Wild based on the number of lines. If you are unfamiliar with the term, it is basically the amount of hands for a chance at a winning hand, according to the paytable.
If you play standard 1-Line Jokers Wild, the one hand will appear in the center of the screen and revealed after you deal.
If you play 5 Lines Jokers Wild, there will be 4 place holders, each of 5 cards. The current Line will be played at the center of the screen. Once you press Deal, your cards will be revealed.
For 25 Lines Joker Wild, there will be 24 places holders of 5 cards each. This may seem a little crowded, but easy to get use to. The live Line will be at the center of the screen. Press the Deal button to reveal your hand.
Misc Video Poker Games
There will be a large selection of Video Poker games to play besides Jokers Wild. For some of them there will be a standard 1 Line, 5 Lines and/or 25 Lines version of these games. We will not cover all the games in detail here. We will quickly list the Video Poker games currently available at AmericasCardroom. If you are interested in learning more about these games, contact AmericasCardroom to learn more.
Deuces Wild (Standard, 5 Lines & 25 Lines)
Jacks or Better (Standard, 5 Lines & 25 Lines)
Aces & Eights (Standard, 5 Lines)
Double Bonus (Standard)
Double Double Bonus (Standard)
Deuces & Joker
ACR Poker Download Settings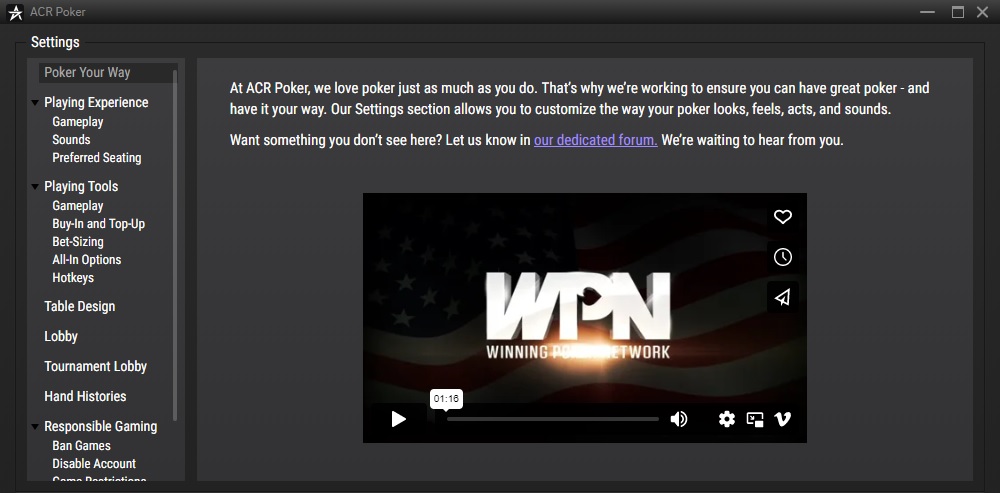 ACR Poker offers a lot of different settings to customize your online poker experience. Click the "gears" button towards the top right corner of the ACR screen, just to the right of your balance. This will open up the settings window which will allow you to personalize a ton of software options.
Settings – Playing Experience
In the Settings window, you will have a few options to adjust the game to your liking.
The first Option will be the Playing Experience.
Gameplay
The subsection Gameplay will allow you to change the settings of the game. This includes showing the player's avatar and chip animations. It is probably best to leave everything at default, at least until you play a few times and are accustomed to how everything works.
Sounds
For different actions and reactions in the game, there will be a notification sound. This includes such as actions as Fold, Begin Turn, Check, Bomb Pot, Button Action to name a few. It will be up to you to turn off some of the sounds if it gets too much for you.
Preferred Seating
This will be one of the more useful playing options you can adjust. Here you will be able to select the table size and your preferred seating. During play, the view will rotate to where you are sitting.
Settings – Playing Tools
The next section of settings you can adjust will be the Playing Tools.
Gameplay
As the name implies, you will be able to adjust the gameplaying during games. You will have the option to display Hints, enable hotkeys, auto switch between tables to name a few.
Buy-in and Top-up
To adjust the minimum and maximum you can bet during Buy-in, Big Blinds, Bit Bets or Top-up you can do so here. This will allow players to set comfortable limits for them.
Bet-Sizing
The Bet-Sizing settings are more than a visual change. It can help with readability and bigger bet-buttons and bet-bars for placing wager, thus making it easier to speed up the games a few seconds. Over time this can add up. Even if it's not about speed, you can save yourself from the eye strain.
Settings – Table Design
The Table Design section will mainly be for the aesthetics of the of table's layout and the look of the cards.
Players can change color of the table and the color of the deck, including the design.
For some players, they may choose to adjust the design to lessen eye strain for them.
Settings – Misc
Besides the games settings mentioned above, there are a few other options you can adjust about the game. We will not go over them in detail, but give a quick explanation and provide screenshots.
Lobby
If you need to choose a language other than English, you can do so in the Language dropdown menu.
Additional settings for the Lobby, including dark mode can be set within this section.
Chat
For options about player chat, you can choose to show it on the screen. This is enabled by default.
If you want to see observers' chat, you can also choose to turn it on, but is off by default.
There is also the option to show a summary of the winning hand, which is on by default.
Other Games
The settings for other games can also be adjust within this section.
Here you can Enable Spin to Get In, Enable Double or Nothing or Enable Live Dealer and Slots Buttons.
By default, all of the mentioned setting on, but you can choose to turn them off if you prefer.
Hand History
For players that like to go over their past hands to analyze how they won or made mistakes, you can save your Hand History. It will be on by default, but you can turn it off if you don't plan to use it.
You can also choose where you want to save it, or go to the folder and view the file.
If you are worried about the amount of data being save to your hard drive, you can change the amount of days you want to save. You can also increase the days above the 30 day default if you need.
Player Reviews
Leave your feedback for playing Poker at AmericasCardRoom!
Americas Cardroom / ACR Poker Download
Average rating:
1 reviews
Dec 14, 2020
New to Poker
Had some downtown due to quarantine. Just picked up poker recently, so this refreshed was helpful. also claimed the promo code for 100% bonus. GG 🙂